Save the Dates
*** 13th Annual Carolan Festival: June 14-15-16, 2019 ***
Our Festival is a gathering of people who play, listen, sing, or dance to the music of
Turlough O'Carolan (1670-1738), Irish harper and composer.
Fri., June 14, 2019
~6:30-9 pm
The Mallery Farm, 108 Norton Rd., Worcester, VT 05682
Welcome Gathering and Carolan Session; visit with old friends and make new ones (while not on a tight schedule for a change)!
~6:30 pm Potluck picnic & snacks (info.). Water provided.
**7:30 pm The Hoolies of Brockville, Ontario will perform special arrangements of Carolan tunes
on The Main Tent stage (joined on some tunes by Honorary Hoolies John & Fran Mallery!) -
followed by a Carolan Session for All
~~~~~~~~~~~~~~~~~~~~~~~~~~~~~~~~~~~~~~~~~~~~~~~~~~~~~~~~~~~~~~~~~
Sat., June 15, 2019
10 am-9 pm (doors open 9:30 am)
The Mallery Farm, 108 Norton Rd., Worcester, VT 05682
Suggested Donation: $10/person, $20/family of four - pay what you can
(CASH or CHECK only; all $ go back into funding the Festival)
***Lunch - Bring your own; Catered Supper TBD by advance reservation (deadline TBD) MEALS - purchase at Festival***
Please go to the Schedule of Events page for details (2018 Schedule- 2019 will be similar & available around mid-May) or Schedule Grid (click for printable Chart version of Schedule)
~~~~~~~~~~~~~~~~~~~~~~~~~~~~~~~~~~~~~~~~~~~~~~~~~~~~~~~~~~~
Sun., June 16, 2019
10 am - ?
Clean-up, Potluck Brunch & Session in the Barn (Free)
Thanks to All who participated for a wonderful 2018 Festival!!
There were several exciting Festival Firsts including:
The American premier by Benedict Koehler & Hilari Farrington
of a recently discovered Carolan tune, "Planxty #12" click for video, from County Leitrim!
(Video - medley with "Madame" Maxwell - was taken later at Catskills Irish Arts Week, July 2018)
Yasi Zeichner danced sean nos to the well-known variation on Planxty #12, "Over the Moor to Maggie".
click to Read an article about Planxty #12 & The Grier Collection from RTE (with video clip)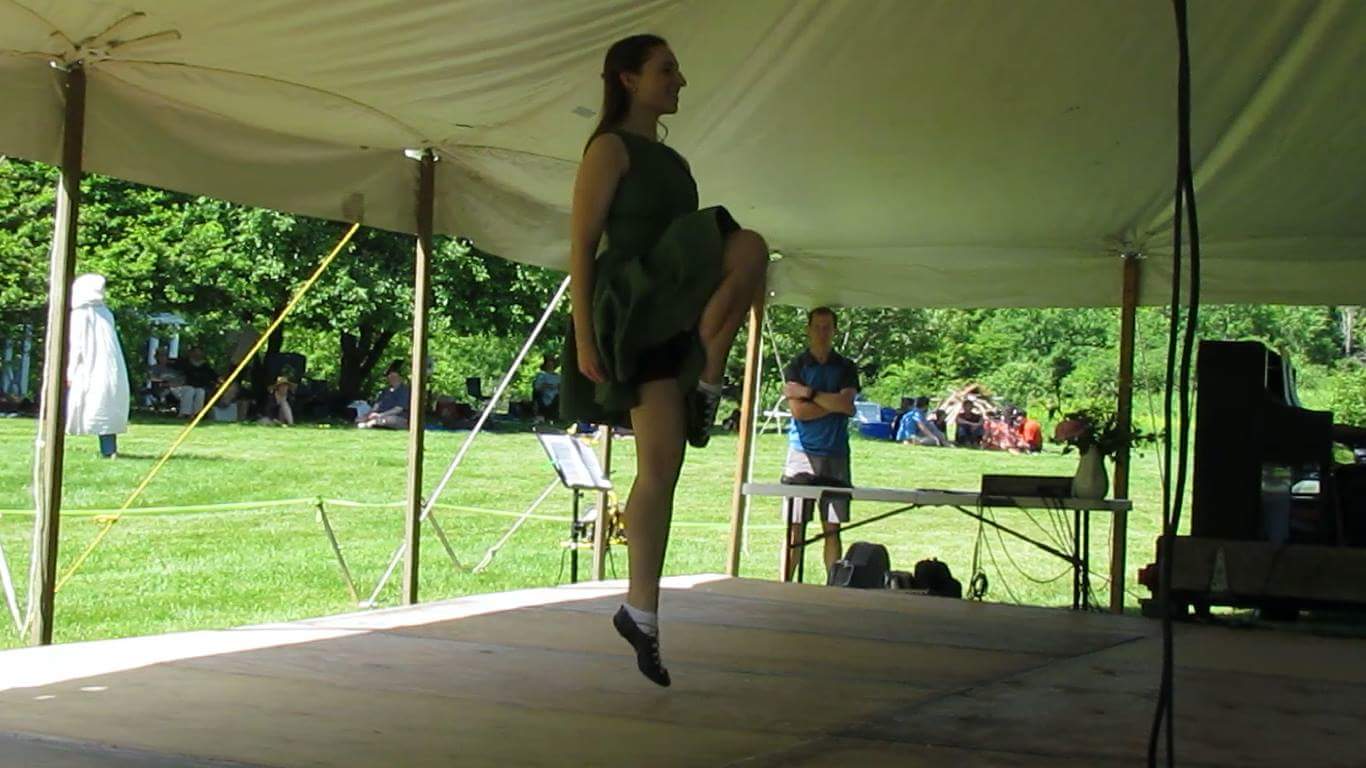 Gerlisa Garrett dancing a light jig to "Maggie Brown's Favorite Jig" with John Mallery on piano.
Click here for a video of Gerlisa dancing jigs and a Carolan Festival 1st- a hard shoe set dance
to one of the 2 approved Carolan Tunes, "Planxty" John Drury 1st Air (the other is Hugh O'Donnell),
for the highest levels of Irish dance competition. Andrea Mori played flute for the set dance.
Enjoy Sharon Schenkel's wonderful 2016 Festival photo album by clicking here (you can view without having a Facebook account- just hit "not now")
Festival Founder and Host, John Mallery, was in his element in 2016 having achieved piano mobility! These photos by Sharon Schenkel say it all!
1) John in his glory 2) John & Cathryn 3) John still glowing
The spirit of the Festival is to share our appreciation of the music. The Carolan Festival will be held, Rain or Shine. Modest donation requested to cover costs. This is a not-for-profit event.
Please contact us for all inquiries or if you would like to sign up for our latest information and announcements.

Proceeds from Tune Books and DVDs go back into funding the festival:
Order Here
A list of the tunes
included (tunes played at our previous Carolan Festivals in italics) - which will also serve as a starting point for tunes to play at this year's Festival.We will by no means be restricted to only these tunes- 214 tunes have survived!

Links to websites with written music and midi files are also listed in the
Carolan References
link, to help explore and learn tunes, whether by sight or by ear.

(The lovely background music is a recording of "Carolan's Receipt" by Bob Paul on hammered dulcimer at the 2008 festival - If you aren't hearing the tune, just click the Active X control box at the top of your screen. To turn it off, scroll down to the bottom of the page, and click on the control button.